Juvederm Hand Rejuvenation
For Smooth Hands ......
Super Special Pricing $650
Call For Your Appointment... Now! (516) 679-0282

*Juvederm Hands"
Juvederm is the Volumizing Filler, that naturally fills lines and wrinkles associated with sun exposure and aging. Great for Hand Rejuvination, Juvederm for Hands erases defects and fills bony looking hands while restoring your youthful beauty.

BOTOX $11.95/unit
Using Botox with Fillers such as Juvederm, Radiesse, and Restylane provides you with the best of both worlds. These two procedures complement each other perfectly by relaxing lines and filling wrinkles at the same time.

WRINKLE TREATMENT
Juvederm Injections work by filling bony aged hands. Juvederm smoothes and rejuvinates with a Hyluronic/Gel formulation. This provides instant volume to fill lines, wrinkles and old bony looking hands.All this, while stimulating the bodies natural production of collagen over time.

SCHEDULING
Call our office to schedule your appointment. We have weekend and evening hours for your convenience. Procedures may be scheduled on a Same Day basis. Give your hands a rejuvinated and youthful appearance. Don't let your hands make you look old.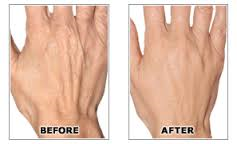 SERVING THE METRO NY AREA
Patients travel from near and far to to be treated at our office. They come from NYC, NJ, CT and LI. We give them superior treatment at a reasonable price.
CALL NOW FOR YOUR APPT.
If you need more information.....accept our invitation to come in for a free consultation. We'll review your concerns and expectations..... while offering a personalized plan based on our years of experience. (516) 679-0282